Huntingdon Scaffolding
Are you looking for Huntingdon scaffolding companies?
Priority Scaffolding office is run from Cambridge, with our teams reaching out across all of the surrounding areas for commercial and domestic scaffolding. We regularly work in Cambridge, St Ives, Huntingdon, St Neots, Bury St Edmunds, Mildenhall, Haverhill, Saffron Walden, Ely & Cambridgeshire.
Here at Priority Scaffolding we also arrange pavement licences with the local authorities.
We offer all types of scaffolding for hire and a varied range of scaffolding erections including temporary roofs, beaming & scaffolding towers. Whether for a domestic home, commercial premises or building site we can cater to your requirements with our usual high level of service and Health & Safety best practice. Our experienced scaffolding erectors pride themselves on being able to get the job done efficiently, safely and in full compliance with current industry legislation. Every scaffolder on our team is CISRS registered. and our company carries CHAS accreditation. We also maintain excellent working relationships with many well known builders, developers & blue chip companies. Our success is built upon our staff who are friendly and courteous at all times.
Domestic Scaffolding Services – supporting outside renovation work; roofing repairs or installation; guttering and loft conversions
Commercial Scaffolding Services – We can erect scaffolding to roof level, using beams and towers if necessary or in various lift stages based on your refurbishment or renovation needs.  We also provide a drawing service or can work from existing drawings.
Construction Scaffolding Services – You can trust us on the redevelopment of period properties; standard builds or to support a new build.
PLEASE TAKE A LOOK AT A LIST WHICH INCLUDES SOME OF THE SCAFFOLDING SERVICES & SOLUTIONS AVAILABLE TO OUR CLIENTS:
Access Platforms – Used for bricklaying, rendering, soffits, facias and roofing
Chimney Scaffolding – For pointing, render damaged chimneys and providing access for roofs' lead flashing replacement
Conservatory Scaffolding – Platforms can be erected over the glass roof using alloy beams to help painters or glaziers reach the work area
Roof Scaffolding – Used for gaining access on housing developments and restoration projects. Provides a safe working platform for contractors where your workers can also connect on to existing man-safe systems. We can also add extra protection by installing brick guards and safety nets to protect debris from falling.
Hoarding and Boarding – We use timber and other material to board up and protect any large site from interference by third parties.
Tube protection – Frame fittings are used to put a frame together which specialist fencing to be tied to
Extension Scaffolding – Added to any extension project in varying heights and widths
Pavement Licenses – Can be arranged when your scaffolding needs to take up any part of the public right of way.
Scaffolding Alarms – Fitted to alert owners, contractors or security guards if an intruder is climbing the scaffold
Scaffolding Towers – Used for all types of work including rubbish chute installations, demolition projects or just plain and simple access
House Building – Timber frame houses
Thatch Roofing – Private sector
Temporary Roofing – Installed to protect the roofing structure from bad weather. We can provide expert advice on scaffold roofing
At Priority Scaffolding, Cambridge, we can erect a scaffold and temporary roof with tin sheeting for a wide range of needs, most often this is for loft conversions and renovation or refurbishment work to keep projects watertight.
A temporary roof scaffold is erected by fixing the steel probes together to form a large structure that completely covers the required area. The scaffold structure is then covered by a waterproof material such as monarflex. This protects the internal area from wind and rain, thereby allowing any building work to take place without the nuisance of the elements. Erecting a temporary roof scaffold whilst completing any construction can also save you money in the long run. Particularly poor weather when working on a building project can cause problems with materials and tasks which means that they must be replaced, take a longer time to complete or require re-doing, all of which cost you more money. A temporary roof scaffold is a perfect solution to avoiding these problems.
Single Scaffolding
Single scaffolds – otherwise known as a Bricklayers Scaffold, is predominantly used by bricklayers when they are repairing brickwork or building a new property. Single scaffold is best used on smaller buildings due to lack of manoeuvrability in regard to elevating or lowering the scaffold. Therefor single scaffolds are ideal for smaller buildings as they offer a stable base for any labourers, and they are easily erected to the required height.
Independent & Double Scaffolding
Double scaffolding – known colloquially as Masons Scaffold, is perfect for any buildings which are constructed from stone. With any stone building, it is very difficult to create holes in walls for support logs to keep the scaffold secure. Erected in a different way to a single scaffold, double scaffold makes use of an extra section of scaffolding as a support for the rest of the structure.
However, like single scaffolding, there is not a lot of manoeuvrability when it come to raising and lowering the platform, and as such should only be used on similar buildings or when working on a specific area of a building.
Some of our Scaffolding Cambridge work;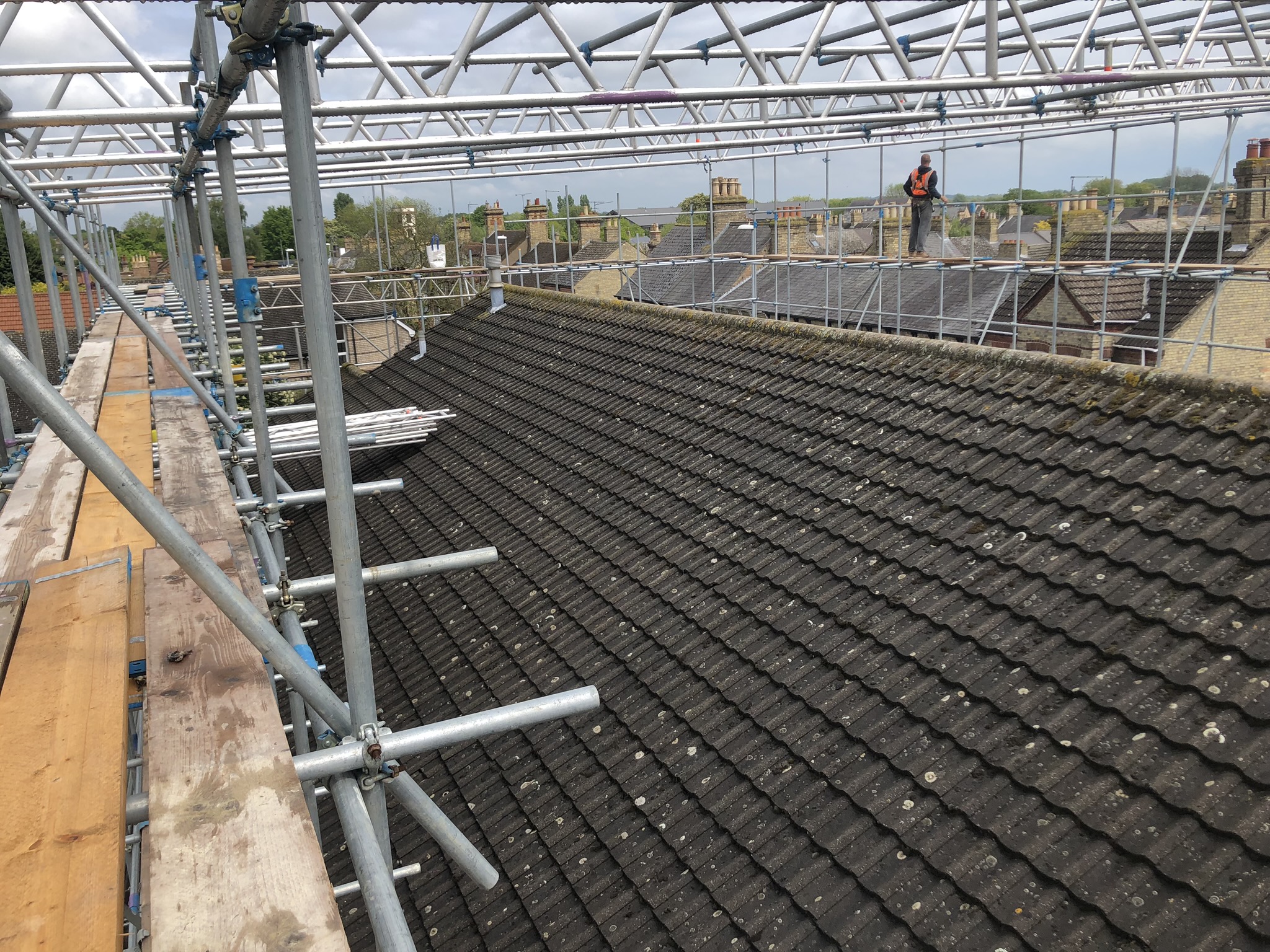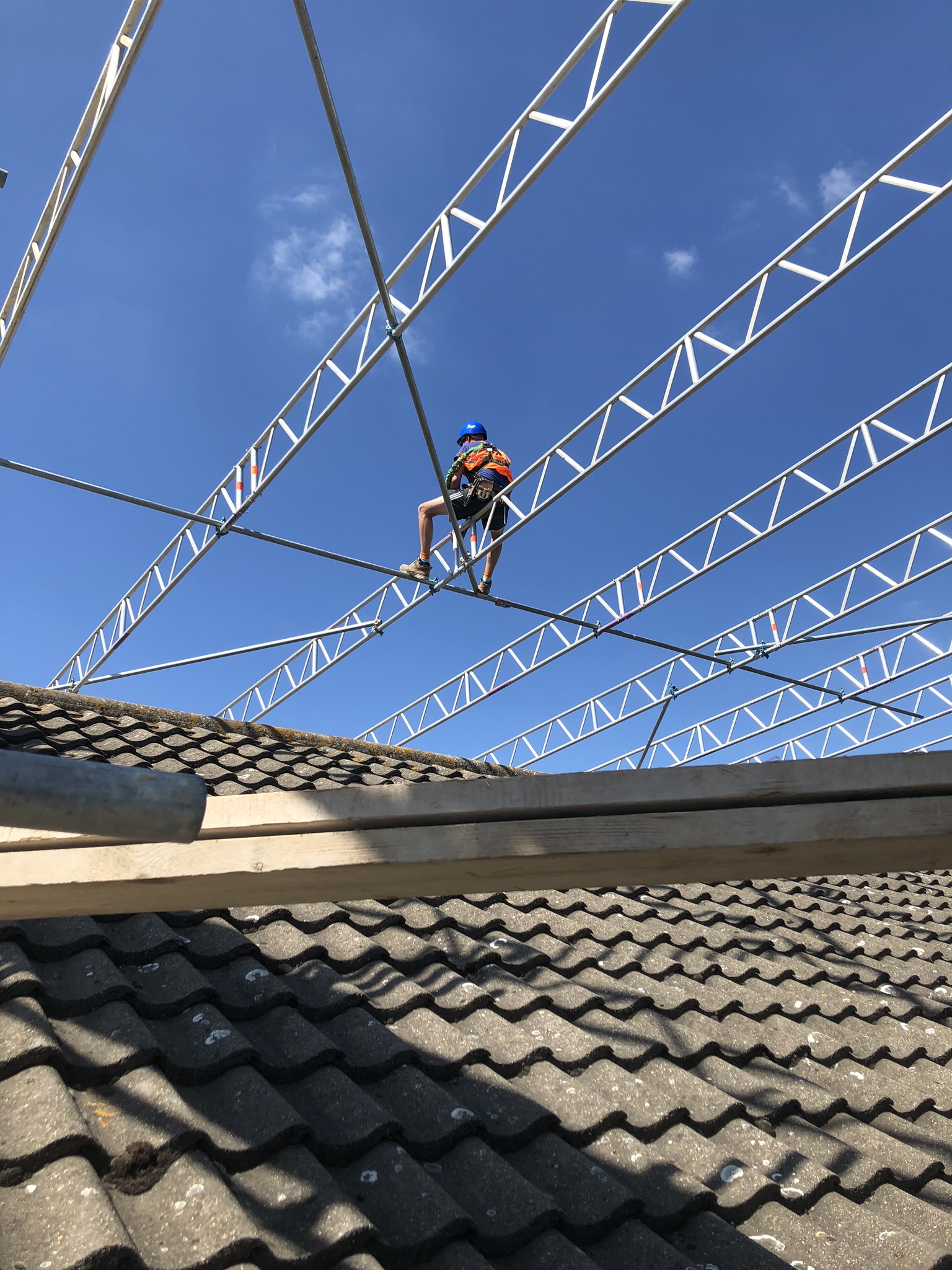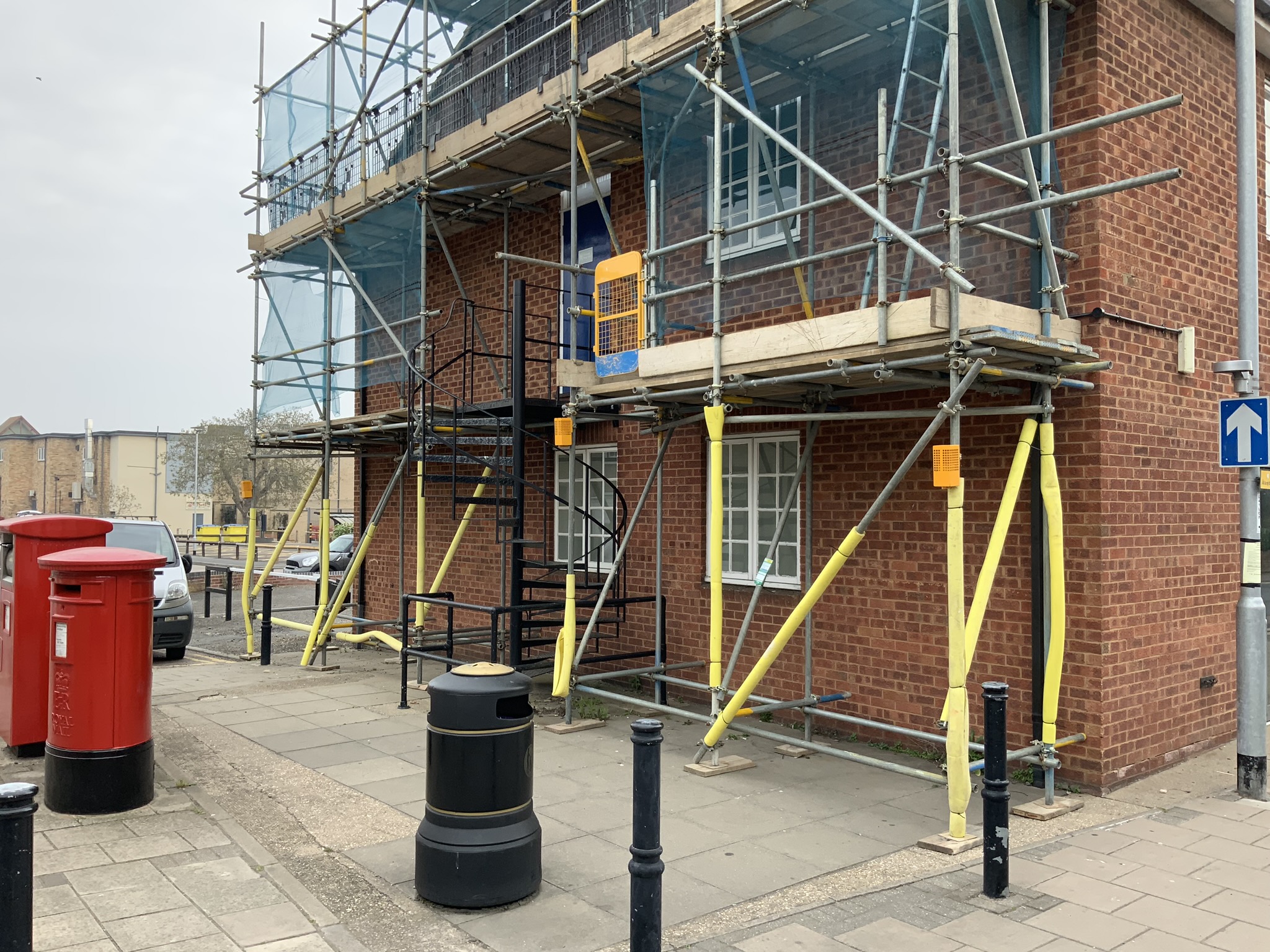 Support & Suspended Scaffolding
A suspended scaffold is unique to other scaffolding techniques in that the scaffold is secured at the top of the building rather than at the base. This means that there is no scaffold near the ground to cause inconvenience for vehicles and passersby.  As such this form of scaffolding is highly useful for tall buildings, especially when the building is on a busy road.
The scaffold is suspended from your roof using ropes or wires. This means that the platform can easily be raised or lowered as needed and can be used for a wide range of tasks from repairs to renovations.
Chimney Stack Scaffolding Services
Repairing a chimney? Undertaking a chimney reline? Make sure you do it the right way, chimney stacks scaffolding from Priority Scaffolding in Cambridge,
Chimney stack scaffolding is efficient in terms of both space and time. It is less time consuming to erect and a reliable option for smaller work areas.
Our chimney stack scaffolding service:
Easy, efficient and reliable support
Quick and professional service
High-quality materials and trained staff
Free quotations
Contact us today to discuss your requirements on 01223 411377
Roof Edge Protection Scaffolding
When undertaking any type of construction work the safety of any workers is of paramount importance. That's why at Priority Scaffolding specialises in edge protection. We can install a variety of edge protection frameworks depending on what material the fixed structure is made from.
Edge protection does exactly what the name suggests by erecting a barrier around any edge that carries risk of falling. This helps to prevent any accidents on the construction site.  Priority Scaffolding can erect any scaffold with edge protection as well as installing edge protection on existing scaffold structures.
Safety Scaffolding – Birdcage & Crash Deck Scaffolding
Crash deck and birdcage scaffolding are useful for completing any indoor renovation or repair work, (this scaffold can be used outdoor if needed), particularly when working in a building with a high roof placement.
As crash deck and birdcage scaffolding are predominantly used for internal work, they tend to be made from a lighter material that regular scaffold, this makes crash deck and birdcage scaffolding relatively easy and quick to erect and dismantle, however, this should still be completed by a professional scaffolder as there are certain requirements that must be met to comply with Health and Safety standards.
Birdcage scaffolding is erected by arranging standards at regular intervals – a maximum of 2.5 metres apart – then tied together using a grid of transoms and ledgers. The top level is then boarded over and secured to create the working platform for labourers. A birdcage scaffold should also offer an enclosed working space for any tradesmen, keeping them safe from falling through any gaps in the scaffold.
Cantilever Scaffolding
Cantilever scaffolding is erected by using steel poles attached to the base of the structure, acting as support for the platform above. As the steel support poles are angled from the base outwards, very little space is taken up on the ground meaning that you are not causing an inconvenience to anyone on the street level. As such this form of scaffolding is very useful if your building is located on the main road. As the platform is elevated and secured away from the road, you are creating a safe environment for labourers to working, minimising the risk of the structure being hit by a vehicle.
If you are about to start a construction project and require any kind of scaffolding erected, look no further than Priority Scaffolding, Cambridge. We cover all areas in and around Cambridgeshire and pride ourselves on efficient scaffolding and a high level of customer service.
Give Andy a call on 01223 411377 or 07803 211222 for a free quotation or visit our contact page and get in touch with us via email.
Hoist hire
Scaffold tower hire